"I did then what I knew how to do. Now that I know better, I do better."   

— Maya Angelou    
---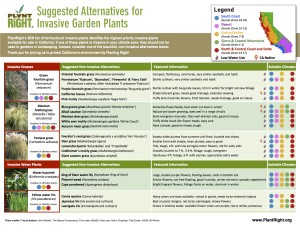 It is a rare garden designer, contractor, or maintenance person who has never specified, planted, or contended in some way with confusion or concern over horticultural invasives like Nassella tenuissima (Mexican Feather Grass), Pennisetum setaceum (Green Fountain Grass), or just a little bit of Periwinkle (Vinca major) in a container. 
Few of us can dispute the beauty and even the seeming utility of these plants, which were introduced, spread, and displayed by us. But now we know better, and we know what to do. It's never too late to say no to Nassella tenuissima, G'bye to Green Fountain Grass, and "I'll pass" on the Periwinkle. With these alternatives, you won't even miss these plants, who at first seemed stable, but turned out to have "issues". 
Welcome to the new list, offering 34 reliable alternatives to the usual suspects, (all of whom need to go into retirement). PlantRight reports that the impressive list of plants no longer found in nursery surveys has grown to an impressive 15 species like Capeweed, Scotch Broom, Russian Olive, and so many more. See the Retirement List here. These plants are still invasive, but thanks to voluntary industry efforts, they are falling away from the marketplace.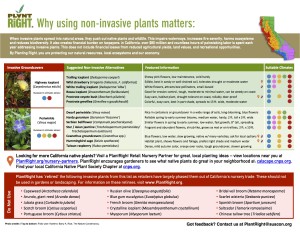 Let's help put more California Horticultural Invasives in retirement by not specifying those plants listed as invasive in your climate zone, and instead choosing from a broad array of alternates. We can all always do better, and with the knowledge of these non-invasive alternatives, we can plant for the future while we learn from the past.
Click on the images to download the 2016 List of Suggested Alternatives for Invasive Garden Plants. Do you have a suggested alternative, to expand the palette of alternatives? Let us know at blog@apldca.org. 
Is there a horticultural "plant of concern" that is not on the list? Give us your feedback, and help to protect habitat, prevent waste to the landfill, keep permeable paving areas unclogged and pervious, and reduce the use of herbicides for the control of these beauties who just don't know their boundaries. As Maya Angelou herself might say, "Bless their hearts." It's time for these plants to take a permanent time out from our spec sheets.
For more on PlantRight, and the selection process for the yearly list of Alternatives to Invasive Plants, visit: http://www.plantright.org/process-updating-list
For more on the Plant Risk Evaluation (PRE) Tool, click here for the latest in promising research to predict the potential invasiveness of horticultural plants.
–Maureen Decombe
Maureen is a retired Landscape Contractor and Designer, and part-time Admin & Communications Coordinator for the Association of Professional Designers – California Chapter. A past president of APLD CA, Maureen has served on the California Horticultural Invasives Prevention (Cal-HIP) steering committee since 2008. Maureen lives in Richmond, CA, where she gardens, writes, and advocates for the Watershed Approach to California Landscapes.